At the beginning of May, we officially announced our conference date together with publishing the registration link, marking the official start of planning and getting ready for the first international and multi-day Event Planners Talk conference from 27–30 August 2020 in Bern, Switzerland. 
Bern is the Capital of Switzerland, and as such, it has infrastructure to accommodate world-class events. Additionally, its heritage, culture and leisure offering make it a desirable MICE destination. Not only is the city an absolute gem to discover, but the entire Bernese region also offers a rich and diverse environment for combining business with leisure, thanks to its nearby lakes and mountains. 
We are thrilled to host our first international event in Bern and explore the region with all its hidden gems! 
Bern is also a compact city, where most of the venues are accessible on foot, or within a short ride by public transport; that's a huge advantage for experiencing the city to its fullest and incorporating the aspects of sustainability and urban mobility.
But first things first, we want to introduce our venue partners who you will have the chance to experience by yourself during your stay. Our programme will take place across these three venues, so we have great variety and a bit of moving around instead of passively sitting throughout the day in one room! 
Hotel Bellevue Palace
For an ultimate experience of the Capital City of Switzerland, we have to go back to over 150 years ago and get to know the iconic hotel for guests of the states, which today also welcome government officials, politicians and business people from around the world. Located next to the Parliament Building, Hotel Bellevue Palace encompasses tradition, luxury, elegance and modern-day comfort.  
This 5-star property excels at catering to state officials, so when you attend the event next year, perhaps you will be in one of the function rooms previously visited by a world leader and where important decisions have been made.
Major decisions will be made during the Event Planners Talk conference too. Our goal is to foster the growth of your business, your personal development and improve industry standards by bringing together key stakeholders under one roof. There will be only one conference stream, and all sessions will have a common thread to ensure that there is no repetition but instead each session will complement each other; hence, by the end of the two days, you have a steep learning curve and comprehensive approach to the industry's key issues.
Schweizerhof Bern & THE SPA
With Schweizerhof, you will have the ultimate 'door-to-door' experience because the hotel is located just in front of the main train station. With its 'living studio'-like rooms and state of the art design, blending French charm and English understatement, the hotel lets one feel at home and offers full convenience for remote working. You will be inspired having this room as your office when you need to get work done or take the time off and enjoy the spa after a long day of attending the conference. 
Our founder, Irina Graf, stayed at this hotel while on her site visit, and was highly impressed with this property. She immediately noticed the sustainable practices being used by the Schweizerhof Bern & THE SPA. For example, the breakfast buffet was particularly basic, with bread, cornflakes and jams, but there was a menu card with varied options, including cold and warm breakfasts, such as cheeses, meats and porridge. This is a wonderful initiative to reduce food waste and an alternative to lavish breakfast buffets. 
The WOW factor for Irina was particularly noticeable at the Sky Terrace, which offers one of the best panoramic views of Bern. When you are there next year in August, you can expect a clear view over the mountains. We are already dreaming of a get-together there on one of the evenings!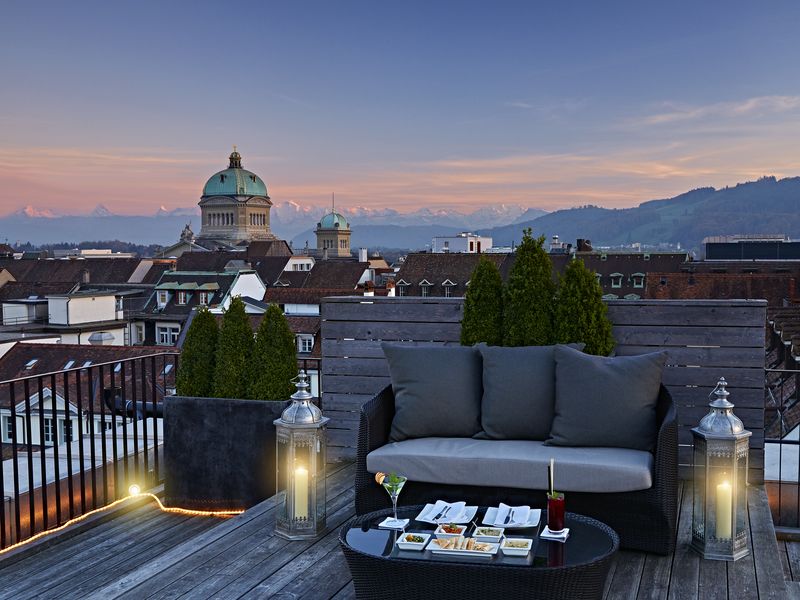 Kongress + Kursaal Bern
For us, the Kursaal Bern is an 'all-under-one-roof' concept for corporate guests because it is one of the biggest venues in Bern and is perfect for large groups. However, knowing that we start very small with our first event next year, Kursaal Bern also has several smaller conference rooms suitable for our needs and which also offer stunning views over the city!
Kursaal is located further from the train station, but still within walking distance, upon which you will be rewarded with having a beautiful view over the Aare river. The Aare is associated with summer in Bern, and if we are to experience a hot August, we will certainly take one session outdoors for hot summer refreshments!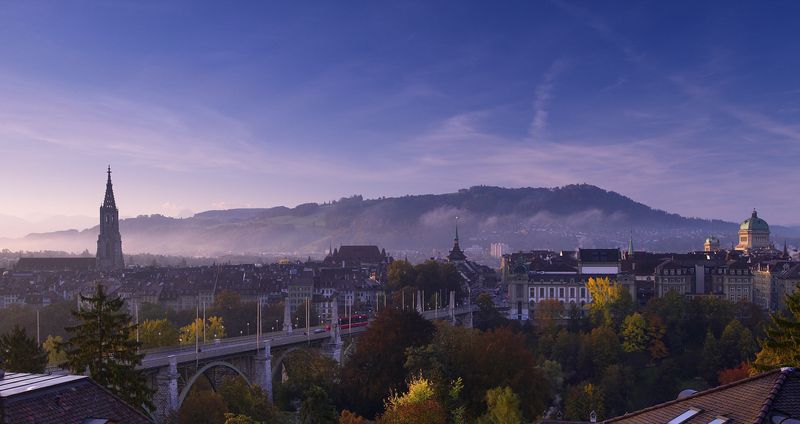 Your advantage when coming to Bern
All of our three venue partners have both conference facilities and guest rooms, and we are working closely with the venues in order to offer you corporate rates during your stay in Bern. We want to ensure that you have a seamless and enjoyable experience, and that you will be able to have a comfortable stay in Bern!
Stay tuned because new information will be released on a weekly basis across our social media channels on Twitter @themiceblogHQ and Instagram @eventplannerstalk. Additionally, you can use the hashtag #EPTBern20 to receive the latest updates and ask us anything!